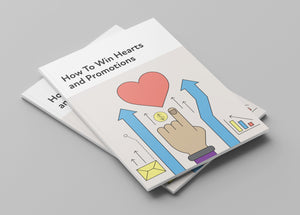 How To Win Hearts
and Promotions
In Any and Every Workplace
Your Guide To Climbing The Corporate Ladder
Get ready to get your hands on this cutting-edge workbook, the compressive guide to mastering workplace dynamics, building fast and effective relationships, and winning the promotions you deserve.
The HTWH&P Workbook covers these topics ( and much more! )
Learn To Climb
Your Workplace's Corporate Ladder
In this workbook I cover everything you didn't learn in your undergraduate or graduate business school.
This includes, but is not limited to: Agile, Leadership, Self-Improvement, Team Development, Habit Building, Workflow, Corporate Relationships, Ensuring Success, Motivation, Professional Speaking, Sales and Negotiations, Networking, Emotional Intelligence, and Effective Conversations.
Don't take our word for it
★★★★★

"Honestly, you've probably been one of the most positive influences for me the past several months. I really can't convey how appreciative I am for the opportunities, the encouragement, the clarity on how to level up."
★★★★★

"You've unlocked opportunities  for me you have no idea. I wouldn't be the professional, let alone the person I am without your influence.  You are one of the most unique individuals."
★★★★★

"You're very knowledgeable about finance, marketing, about people about life; and you actually have the skills and the motivation to implement that knowledge in a way that's useful to people."
★★★★★

"I've always been impressed with how you command a room with your knowledge, expertise, and natural presence. This workbook is a godsend on how to build those needed characteristics not only in myself, but in all of my employees."
★★★★★

"You're very sharp and innovative in a unique way, perceptive; but what I think makes you such a gem is those qualities combined with actual kindness and care for others."
Your Next-Gen Corporate Playbook
This isn't your daddy's antique copy of long-forgotten office politics strategies.
This is the neuroscience-backed, self-awareness fueled super playbook that's going to get you closer to the corner office than anything you've read before.