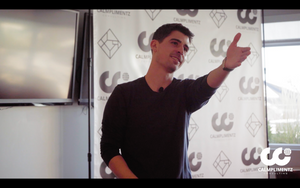 Introducing
Mr. Joey Mentz
Your Guide To Corporate Success
Sourcing Thousands Of Pages Of Expert Insights, Case Studies, & First-Person Testimonies
Joey Mentz knows first hand what it's like to struggle climbing the corporate ladder without a guide to show him the way. That's why he set out to create the comprehensive guide to corporate success:
The Man
Joey Mentz
Joey is a Portfolio Entrepreneur, Corporate Leader, and a Fellow Employee dedicated to showing you the ropes of Corporate Dynamics.
Leveraging his unique experiences, Joey created a workbook to level up your corporate "kung-fu" and empower you to succeed in any workplace, no matter what your corporate battlefield looks like.
And His Creation
How To Win Hearts and Promotions
Mastering your own career requires "climbing countless corporate ladder rungs" all representing the different skills, insights, and experiences you need to thrive in your workplace.
Bundled together into the HTWH&P Workbook, Joey has compiled countless amounts of expert sources with his experiences of being a first-class leadership teacher for Fortune 500 executives.
Portfolio Entrepreneur
Built on his years of corporate experience, Joey founded Calmplimentz Consulting, a management consulting firm that focuses on developing leaders across a multitude of industries. Through his firm Joey has successfully consulted over 11 companies, all reaching new heights because of their time with Joey.
Corporate Leader
In his full-time position as a developer of corporate leadership, Joey has successfully coached over 4 thousand hearts, all beating stronger within their own companies across the country. Even more impressive, Joey has over 5 thousand hours of public speaking to fellow executives and managers in firms nation-wide.
Fellow Employee
Joey has leveled-up his own career with the insights from the HTWH&P Workbook, he knows first-hand what it's like to be a fellow employee climbing the corporate ladder. Forming over 2 thousand bonds with the colleagues he's worked with, Joey has a passion for nurturing his community.
Joey wrote How To Win Hearts and Promotions leveraging his years of experience in a number of multi-disciplinary fields to give you the most powerful guide possible.
Feel free to ask any questions about the workbook using the form below.