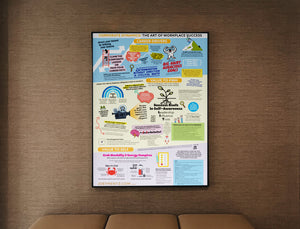 The One-Pager
To Rule Them All
Level Up Your Corporate Mindset
The Last Life-Boosting Poster You'll Ever Need
We've all downloaded incomplete online guides that overpromise and underdeliver.
You deserve better.
That's why I set out to create this supercharged one-page poster that will act as your North Star to leap-frogging the corporate ladder in 2022.
Sourced & Distilled
From The Playbook Of Playbooks
Every inch of the Corporate Dynamics: How To Win Hearts & Promotions One-Pager was pulled from the most important lessons from the master guidebook. Need a daily reminder to set Big Hairy Audacious Goals, to review your personal Game-Film, that you deserve to be able to Plant A Flag On A Hill? Well then we have the One-Pager for you.
Keep scrolling to see these examples and others, a small selection of the insights showcased in this free, download poster.
The Perfect Guide For Corporate Vets & Novices Alike
All of the top performers in the corporate world surround themselves with other "all stars" so that they can tap into a well-spring of insights 24/7. I believe that those insights shouldn't be a reserved only for 20-year corporate veterans.
Everyone deserves the chance to make the climb.
That's why I created this One-Pager.
Loaded Full Of Insights To Remind You Of Concepts Of Stuff
Poster Sized One-Pager Available
For those that are looking for a poster-sized version of the Corporate Dynamics: How To Win Hearts & Promotions One-Pager click the button below to have a enlarged version delivered to you for a small cost.